NHSCPA Officers, Directors & Staff
Kendra J. Bell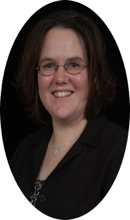 Kendra J. Bell, CPA, President
Kendra joined Francis J. Dineen & Co. in Lancaster, New Hampshire in 2000, shortly after her graduation from Plymouth State University. In 2007, she became a partner in the firm, prompting the name change to Crane & Bell, PLLC.
Kendra applies her enthusiasm for helping others and 16 years of experience to all of her clients' situations. Whether working with individuals, businesses, municipalities, or non-profits, Kendra loves to see her clients succeed by staying on top of their financial lives.
While involved with all aspects of the firm's services, Kendra's expertise and main focus is on providing services to municipal and non-profit clients. She spearheads the firm's educational workshops, which offer both training in specific topics as well as networking opportunities. She has participated in presentations at the annual New Hampshire Government Finance Officers Associations and Local Government Center conferences.
Kendra is a member of the American Institute of Certified Public Accountants and the NH Government Finance Officers Association (NHGFOA). She is a member of the Board of Directors of the New Hampshire Society of CPAs. She also serves on the Boards of the Coös Economic Development Corporation, the Lancaster Rotary Club and the Morrison Hospital Association. Recently, Kendra was honored as a member of the Union Leader's 2016 class of 40 Under Forty.
---