Benefits
The New Hampshire Society of Certified Public Accountants serves a diverse and growing membership of more than 1,100 CPAs and accounting professionals in public practice, industry, government and education.
The Society works to develop and maintain high professional standards and offers a wide array of legislative, technical support and networking opportunities to its members. Below is a list of benefits made available to members, including primary services and discounts available through the Society. Join NHSCPA today!
---
Advocacy
The Society advocates issues of importance to the accounting profession, monitors how government plans will affect businesses and promotes the interests of CPAs before the state legislature, regulatory bodies, and other organizations.
Educational Partnership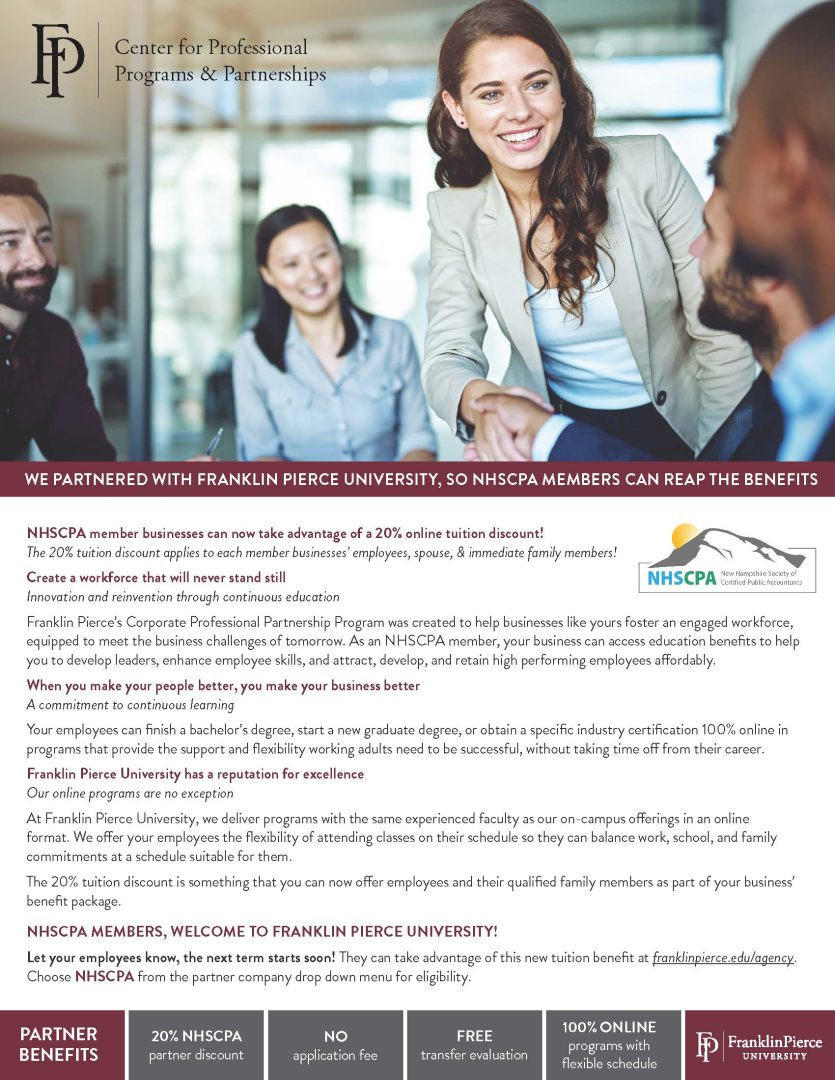 Networking
Good networking and relationship building are key skills common to all successful business people. Networking allows members to further their professional development by learning from peers with similar interest – facing similar challenges – and imparting effective solutions.
Committees – Society volunteer groups operate under specific objectives for programs and activities.
Membership Meetings –

CPA Inauguration/CPA Career Night
December Mixer
Annual Awards and Past Presidents' Night

Annual Golf Tournament –

Members have the opportunity to network with other CPAs and other community business partners for the benefit of the NHSCPA scholarship fund.
---
Town Hall Meetings and Firm Visits –

Regional meetings are held to provide members in practice and industry an opportunity to meet the Society leadership, hear about the Society's Strategic Plan, receive professional updates, and have the opportunity to discuss and educate us on important issues. Firm visits are a great way to ensure that your entire staff is getting the most from their Society membership and hear about what your Society is doing for you. To schedule a firm visit, e–mail Robin Abbott.

Young Professionals Network –

Opportunities for our young professionals are provided throughout the year to encourage our young members to meet their colleagues. The Society YPs Committee organizes activities such as golf lessons, a golf league, charitable events, athletic events, as well as educational/social gatherings.
Professional Development
Over 90 NHSCPA Sponsored Continuing Education Programs available at a discount to Members

CPE Season Pass – 40 hours of cpe at a discounted price

Special Programs –

Annual Tax Forum co–sponsored with the NH Bar Association
Accounting for Not for Profit Conference
Business and Industry Cluster
Employee Benefits Plan Conference
Estate Planning Conference
Professional New Staff Training Conference
Practice Management Conference
Women's Leadership Conference
---
Self-Study & Webcasts –

AICPA CPExpress
CalCPA
CPA Crossings
K2 Enterprises
Surgent McCoy, Inc

Online CPE Tracker –

Tracks your CPE credits on our website.

Employment Assistance
Significant Discounts on CPA Exam Review Courses –

Becker CPA Review
Roger CPA Review
YAEGER CPA Review
Wiley CPA Review
Communications
NHSCPA.org – the official website for the only state-wide professional organization for CPAs
NHSCPA Connection – the quarterly newsletter provided for members only
New England Advocacy Collaborative – offers a review and summary of legislation affecting the New England region
E-news – important professional news communicated instantly
---
The Public Practice E-news – sent electronically bi-monthly
Accounting Students' information – a devoted webpage for future CPAs on NHSCPA.org
Find-a-CPA Directory – a free service for members to advertise services on NHSCPA.org
Career Services
Employment Assistance
Significant Discounts on CPA Exam Review Courses –

Becker CPA Review
YAEGER CPA Review
Roger CPA Review
---
Insurance
The following insurance programs through the AICPA –

Professional Liability Insurance
Long Term Disability
CPA Life
CPA Spouse Life
Preferred Savings Programs
CCH Discounts for Members – 30% Discount on CCH Tax Guide
DST (formerly Newkirk) Discounts for Members – Mention NHSCPA to receive your 10% Discount on new orders of Newsletters, Booklets, and Guides.
Membership in New Hampshire Federal Credit Union – They are a non-profit financial cooperative with a wide range of financial services.
Brooks Brothers Corporate Membership Card. Save 15% on regular priced merchandise at Brooks – Brothers U.S. branded stores nationwide, by phone or online at BrooksBrothers.com.
La Quinta Inn & Suites (Manchester, NH location) – 10% discount off their lowest available rate anytime of the year.