NHSCPA Officers, Directors & Staff
Jennifer Elder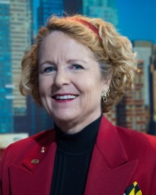 Jennifer Elder, CPA, CMA, CIA, CFF, CGMA, MS
Jennifer Elder, CPA, CMA, CIA, CFF, CGMA, MS helps accountants advance their careers and organizations increase retention by developing powerful communication skills.  Jennifer works with companies and their emerging leaders to increase employee engagement and client value by understanding personality styles, generational characteristics, and communicating clearly, concisely, and persuasively.
As a consultant and keynote speaker Jennifer is known for being energetic and enthusiastic.  She has conducted seminars for the Fortune 500, the US Government, State CPA Societies, and CPA firms in 45 states and 5 countries.  She is both a business strategist and an accounting expert who can make the complicated simple, practical and useful.  She is a published author,  writer for the AICPA's CPE Direct, named a "2015 Woman to Watch" by the AICPA and MACPA, and been awarded Outstanding Educator by the AICPA for the past four years.
When not on the road teaching, she is either living on her boat on Chesapeake Bay or skiing the slopes of New Hampshire with her husband and two cats (no the cats don't ski!).
---